OPINION
Cape Malay Music
Sanjay Dutt, the popular Bollywood actor was recently in Cape Town for a shooting sequence of Chatursingh Four Star. Many Indian movies have been made with Cape Locations as a part of the story but none of the Directors have ever thought of using the unique Cape Malay Music and using it in playback singing. I was in Cape Town at a Writer's Meet and accidentally encountered this fascinating 'out of this world' music which many people term it as Cape Jazz and Ghoema music.
The Cape Malays had a big influence on the genres known as Cape Ghoema and Cape Jazz. This cultural group first arrived on the Cape shores around the end of the 17th century mainly from Malaysia, courtesy of their then English and Dutch slavemasters.
Wikipedia explains Cape Malay music as a speciality that is original to this cultural group. An interesting secular folk song type, of Dutch origin, is termed the 'nederlandslied'. The language and musical style of this genre reflects the history of South African slavery; it is often described and perceived as 'sad' and 'emotional' in content and context. The nederlandslied shows the influence of the Arabesque (ornamented) style of singing. This style is unique in South Africa, Africa and probably in the world. Cape Malay music has been of great interest to academics, historians, musicologists, writers and even politicians. The well-known annual Cape Town Minstrel or Carnival Street festival is a deep-rooted Cape Malay cultural event; it incorporates the Cape Malay comic song or 'moppie' (often also referred to as 'ghoema' songs). The barrel-shaped drum, called the 'ghoema', is also closely associated with Cape Malay music.
It is said that in 1834 at the time of their liberation, small groups of slaves descended into the streets of Cape Town, singing songs to celebrate their freedom. This tradition persists today during the "negro" carnival (Coon carnival), which is held there each New Year.

The "Malay" musical culture has also spread through the townships in the wake of the forced movements of black and half-caste populations towards the Cape Flats - the sandy plain surrounding the Cape. The tradition of "Cape Malay" choirs, and with it, a musical culture which goes back to the age of slavery, still exists today in the old "Coloured" townships, and in certain areas (half-caste) of the Cape such as Bo-Kaap.


It is interesting to know that over the years the Cape Malay Music has blended with Cape Muslim music or South African Islamic music. Desmond Desai an independent researcher and an authority on Southern African Islamic music has done a doctoral work on Ratiep a self mutilating spiritual art form as practised by South African Muslims.On December 16, 2006 one of the stalwarts of Cape Town Ghoema Music, Taliep Petersen, was brutally killed at his home in Athlone. He studied Classical Guitar at the Fitznell School of Music in England and wrote the popular revue called Carnival a la District Six based on New Year Celebrations in Cape Town. He remains an icon of Cape Malay music.
Mac Hendricks is a well known face of the Cape Ghoema music tradition. In a You Tube interview he says that Cape Malay music is a mixture of Indian music, indigenous music of Khoisan, San, Griekwa, Malaysian, Indonesian and the English people. He adds. 'All the blood of the world is mixed in Cape Town'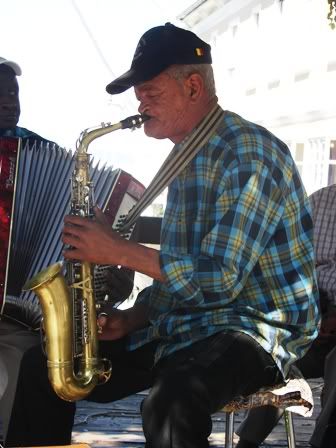 I am at the V&A Waterfront. There is music in the air. I follow the strains and find myself in a group of avid listeners under a tree. I am confronted with the best of Cape Malay music. Mr. Pieterson is a wizened old man playing the sax accompanied by his friends on base guitar and mandolin. We are spell bound as the music flows in and takes roots. Suddenly an elderly lady starts dancing, Mr. Pieterson smiles and plays for her. I wanted to dance too. I wish to go back again if only to listen to Cape Malay music.
The next day, my friend Ismail Robinson and his wife drove me back to the Cape Town airport. On the way, he says 'Look Dr. Mitra towards your left, there is Athlone in Cape Flats home to the Cape Malays. We stay there.' It is said that there is one thing that is in abundance in Athlone is the willingness of people to help each other. It was previously known as West London and later named after Earl of Athlone, Governor General in South Africa in Nineteen Thirties.I think of a love story between a beautiful Cape Malay girl and an Indian boy which might entice a Bollywood producer to make a movie in the Cape Flats. Obviously the startling colours of Cape Malay music would feature most prominently in such a film.
Reference – Wikipedia
-You Tube
Keep reading for comments on this article and add some feedback of your own!
Cape Malay Music
Article
» Published on November 25, 2008
» Type: Opinion
» Filed under:
Author: Amitabh Mitra
RSS: