NEWS
Amit Singh, 7/11 Bomb Blasts Victim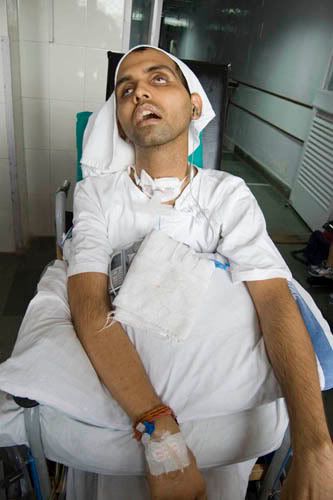 Elevenths July, 2008, marked the second anniversary of the serial bomb blast triggered by the terrorist on the Mumbai's Suburban Western Railway Trains two years back. 186 innocent lives perished and more than 500 people were injured. Amit Singh who was travelling in one of the ill-fated train on that day became a victim of the blast and is languishing in a hospital in Mumbai in a semi-comatose from past two years.

Amit a final year student of the commerce stream was on a visit to his uncle's place in Mira road. He boarded the Virar train from Andheri after he collected admission form for doing post graduation from one of the institution in Vile Parle.

At about 6.30 Amit lying on the footbridge of Mira road station completely soaked with blood called up his dad from a stranger's cell phone and said that he was hit by some impact and that he is injured on his head and bleeding profusely. He added that in this condition he won't be able to visit his uncle's home. His dad told him that he would be reaching him at once.

The train's bogey in which Amit was travelling was ripped by the bomb blasts set off by the terrorists. By the time his dad reached the incident site in Mira Road Station there was no sign of Amit anywhere. On enquiry, he was told that most of the dead and injured were taken to the nearby hospital. Meanwhile, the news of serial bomb blasts and the images of injured lying blood soaked on the railway platform were beamed live in Televisions. Mumbai was in utter chaos with cell phones and landlines jammed and the roads caught up in long traffic snarls. There were scene of panic and confusion among the people as they were unable to call up their dear ones finding out about their safety.


After combing each and every hospital on Mira road at the crack of dawn, Amit's father could finally locate his son lying unconscious in a hospital bed. A stranger sitting next to Amit was claiming that Amit was his brother. Amit's wallet was found in his trouser and the identity card in it helped the father claim his son.
Later Amit was admitted to the well-known Jaslok hospital in the city. Amit suffered a deep wound on the side of his head from the bomb blast impact. His brain developed swelling and pus oozed out from the stitches on his head. As a result, he had to undergo number of surgeries. The doctors have not been able to bring back Amit from his comatose condition.

For the past two years he remains in a same vegetative state, with little sign of recovery. In fact the doctors have given up any hope on Amit's recovery. His parents are perplexed that if just after the injury Amit could talk to them on phone then how could he come to such a grave state of lying unconscious from past two years. They try to call him, cajole and shake him up but Amit remains unresponsive and motionless.

The railway has borne all the expense so far running to 40 lacs. Amit needs personal care and nursing around the clock. From the past two years Amit father, mother and his elder brother take turns remaining near their beloved Amit. They stay at a far off distant place in Virar and daily have to undertake one and half hours of grueling train journey facing the commuters shove and push during peak hours to reach the hospital. So far they have received a petty amount of Rs 50,000 as compensation from the government. Amit's parent hail from middle class family and has little resource to bear his expense of his medicines and then hiring a nurse if he is shifted home.

In the face of this grave tragedy that has befallen Amit parents they are putting up a brave face hoping against hope, keeping faith in God that one day Amit would wake up from his sleep and call out to them.

Keep reading for comments on this article and add some feedback of your own!
Amit Singh, 7/11 Bomb Blasts Victim
Article
Author: Rajen Nair
RSS:
Subscribe to RSS 2.0 feeds for: