NEWS
Bomb Attack on Benazir Bhutto's Convoy, Over Hundred Dead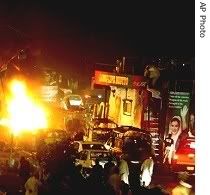 Over 135 are dead in two bomb blasts in front of Benazir Bhutto's convoy as it made its way from the Airport to Quaid's Masoleum today.

Millions in Pakistan and abroad were glued to their TV screens watching her departure from Dubai and arrival in Karachi after nearly nine years of self exile.

IF Ms. Bhutto had any premonition she did not show it. In countless interviews and sound bites in the past few days she focussed on the future, brusquely pushing past aside. She talked of providing work and food to the poor, further investigating Dr. Abdul Qadeer Khan who sold 'weapons of mass destruction', played ethnic cards - Punjabis versus Sindhis. (Punjab is the majority province and has a major share in the army and bureaucracy. Benazir hails from a feudal Sindhi family.)

* * * * *

A friend sent me an email:


...a whimsical comment from (name edited) "She lands at Karachi airport, with a Tasbih in her hand, an Imam zamin on each arm and someone holding a Holy Book over her head. During the flight she insisted that passengers recite specific prayers that bring good luck. (I assume Ayet ul Kursi is one of them)". ....

And from friend, activist, and journalist Beena Sarwar:
Absar managed to get an interview with Benazir as she stood in front of the truck-top. "The uniform and democracy cannot go together," she said but stressed the virtues of patience and reconciliation – a marked difference from her earlier oppositional rhetoric. Her most important priority on coming to power would be economic betterment and employment opportunities for the people.adding with a gesture to the crowd before her: "It is for these people that I, and my family, and my party workers have given so many sacrifices."

The latest reports from Geo Network puts the numbers of dead at over 135. ARY puts the numbers in similar proximity. And these numbers are expected to climb.
The suicide blast occurred around midnight Karachi time at Karsaz, on Shahrah e Faisal a few miles from the Quaide e Azam International Airport.
Former Prime Minister Benazir Bhutto arrived Back in Karachi nearly nine years after self exile. Ministers in General Pervez Musharraf's Government who were in communication with Benazir and her PPP colleagues had privately and publicly warned her to delay her arrival because of terrorist threats.
According to Daily Times (Oct. 05) Baitullah Mahsud, a Pakistani Taliban leader had threatened to carry out suicide attacks against Bhutto.
She put on a brave face, saying she could not go back on her words. On January 5, 2007 she declared that she will return to Pakistan this year.
In July her meeting with Gen. Musharraf was revealed. She had been negotiating an amnesty deal with his government for some time.
Publicly she insisted that PPP (whose chairperson for life she is) had three non negotiable conditions prior to supporting President Musharraf's bid for re-election.
1: The President shedding his uniform.
2: Repeal of Article 58(2)b (The President can dissolve an elected government under this)
3: Repeal of law barring a third term as PM. (both Benazir and Nawaz Sharif have been PM twice).
There were other issues such a "Free and Fair Elections" and repeal of corruption and other cases against her and her husband Asif Zardari.
In the end she settled only for the dropping of corruption and money laundering charges against her and Zardari and a promise by Gen. Musharraf to doff off the uniform sometime in future.
Speculations are rife that Conoleeza Rice brokered this 'deal'.
An enraged friend called me. "t if you are writing about this please quote me. "She took measures to provided for her own security - her bullet proof truck, her 'jialas' surrounding her entourage, she called her supporters from all over Pakistan to come and receive her in a 'sea of heads' yet she abysmally failed to recognise the dangers to their security. In her haste to return to Pakistan, I hold BB personally responsible for the deaths of every single one of the civilians who succumbed today."
Benazir was made aware of serious threats against her return. Was she wise to ignore them?
For more read
HERE,
HERE,
HERE
, and
HERE
.
photos courtesy AP
Keep reading for comments on this article and add some feedback of your own!
Bomb Attack on Benazir Bhutto's Convoy, Over Hundred Dead
Article
» Published on October 18, 2007
» Type: News
» Filed under:
Author: temporal
RSS: